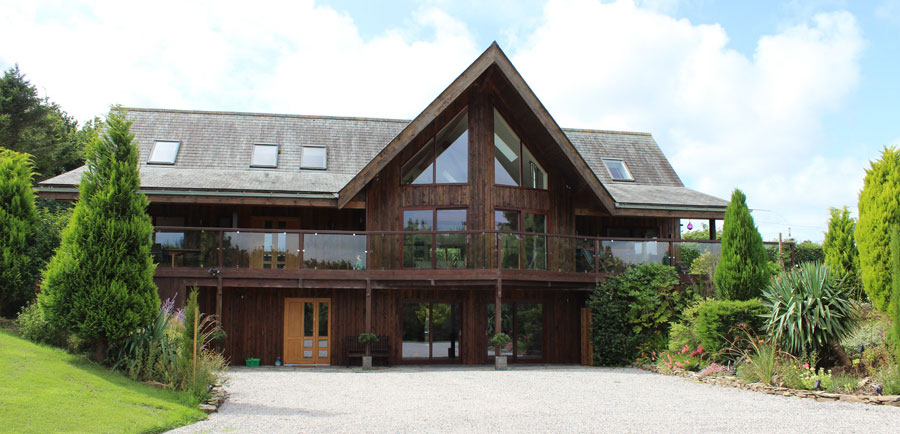 Ground Floor Holiday Apartment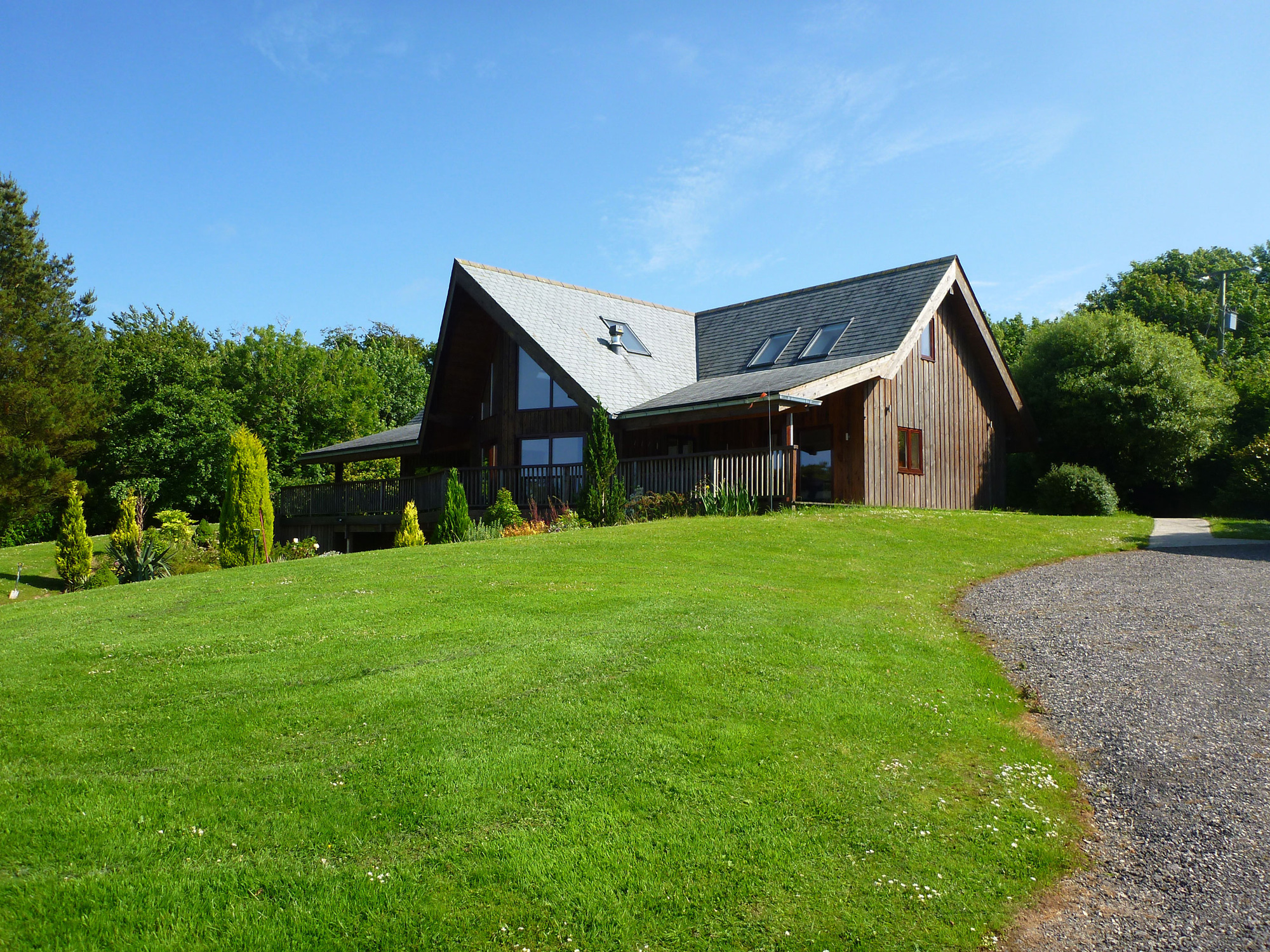 Stunning Private Grounds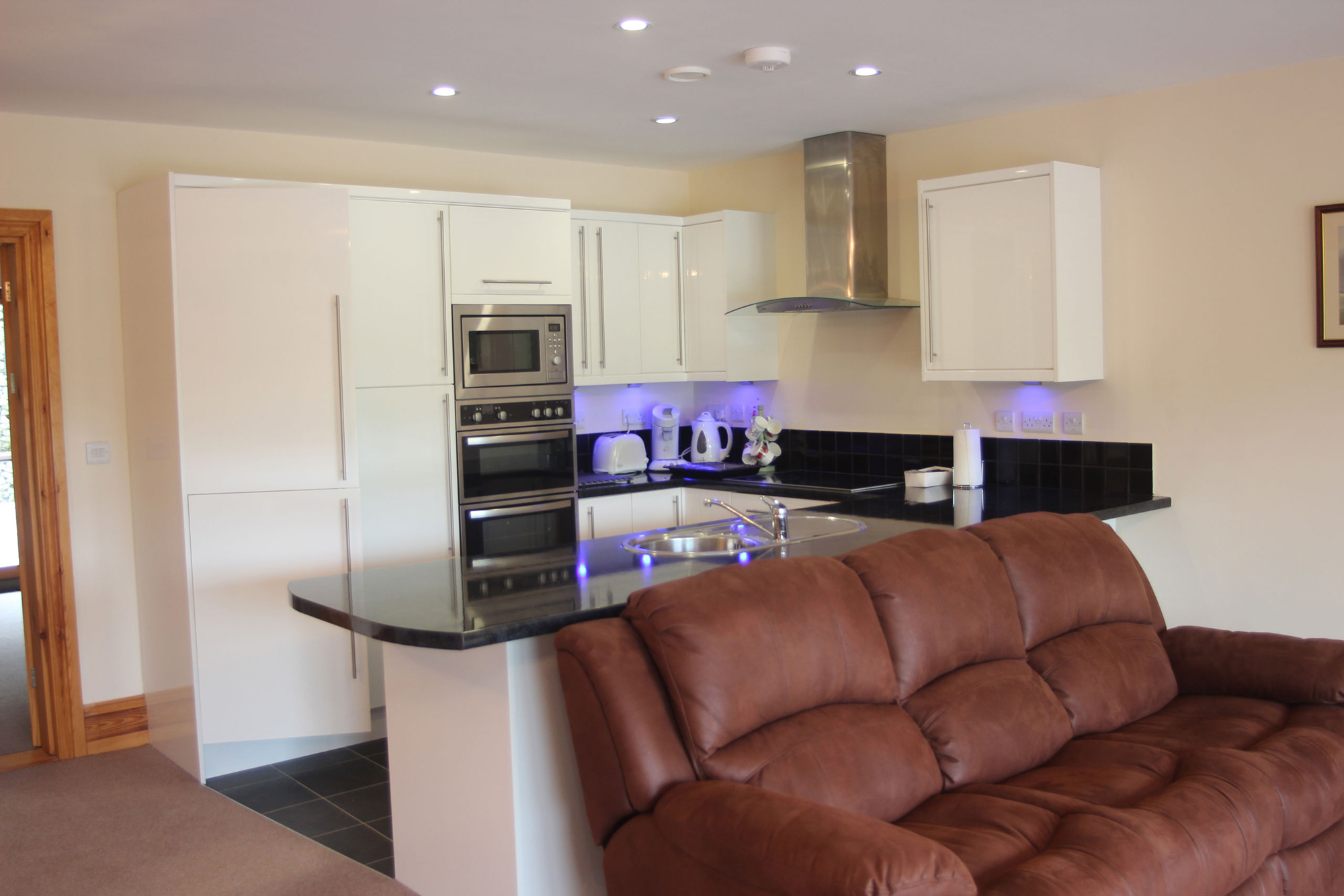 Large Lounge & Dining Area with Self Catering Facilities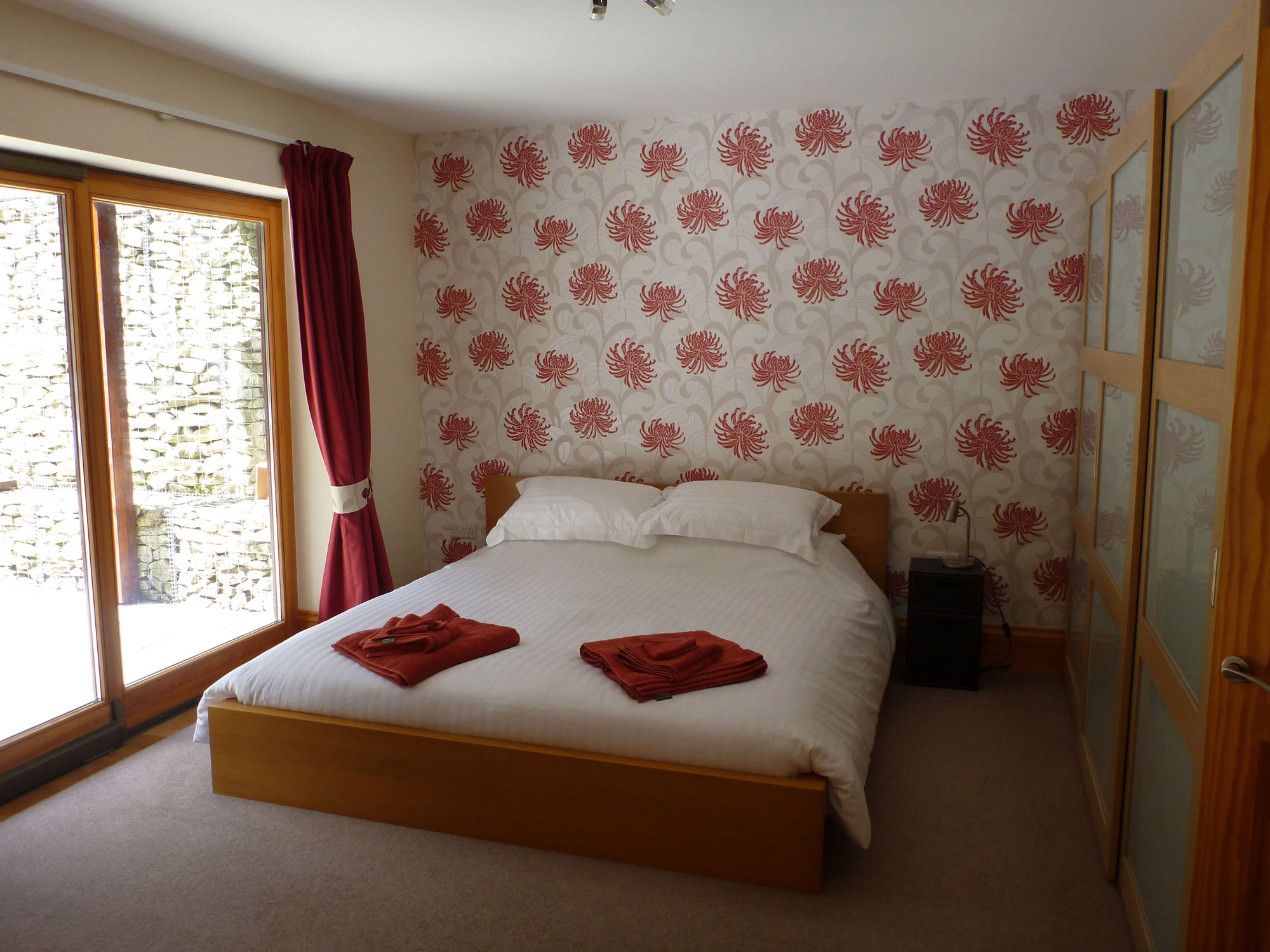 Two Large Double Bedrooms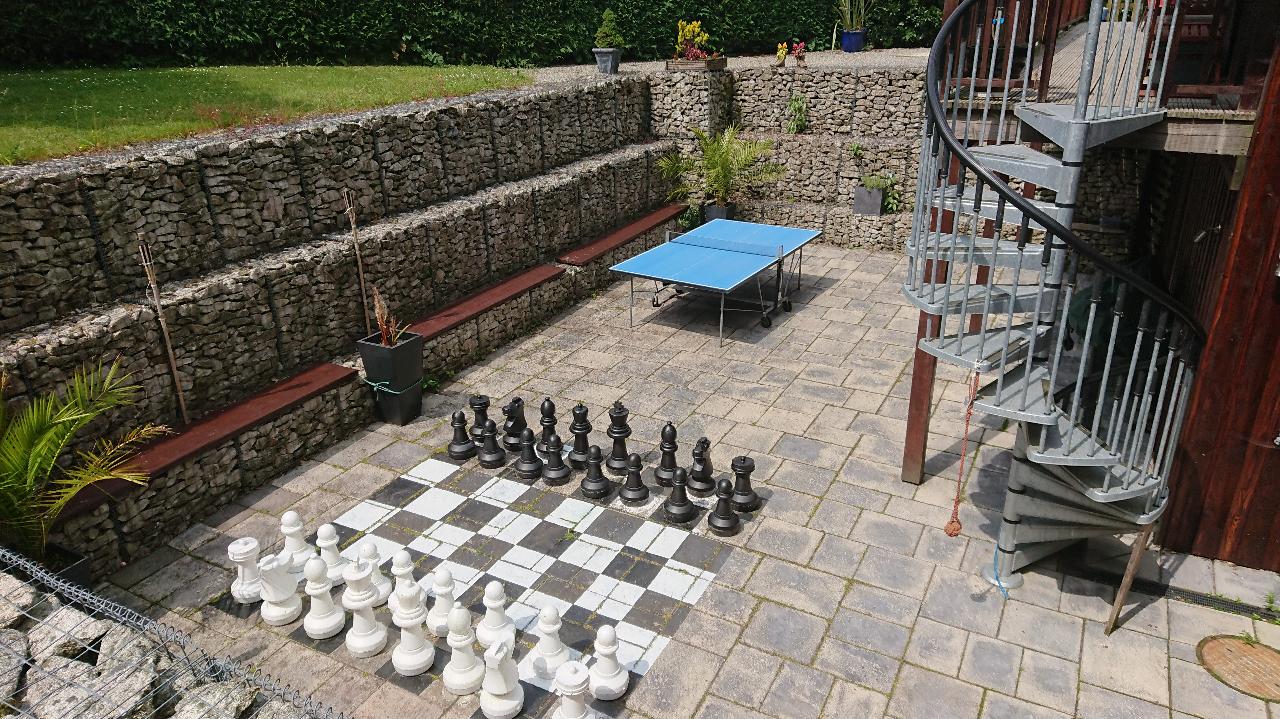 Large, Sunny, Enclosed Back Patio
HOLIDAY, WEEK OR WEEKEND LET
---
The Burrow apartment sleeps four in comfort but can accommodate more by arrangement. It is ideal for week/weekend holidays either as a base for other activities around Cornwall, or as a quiet, secluded and relaxing 'get-away". A small sheltered patio area fronts the entrance.

This unique and exceptional building is located in secluded land on the outskirts of the rural hamlet of Black Cross, just 7 miles from Newquay and minutes from the main A30 trunk road in and out of the county.

Designed and built just a few years ago by specialist architects, WOODLANDS enjoys wonderful views over the surrounding countryside. The project itself was a finalist in the highly contested "Best Individual Dwelling" category of the LABC Building Excellence Awards. It was awarded in recognition of the high standards of eco design, construction and workmanship. It also featured on a national television show.

Clad in Douglas Fir, this imposing and extremely attractive property is fitted with all the latest eco-friendly systems including a ground source heat pump, full under floor heating and a heat recovery and ventilation system.


"David and Danielle were very helpful and friendly and have a beautiful house in lovely gardens! There was a thoughtful welcome box with scones, clotted cream and jam which was welcomed after our journey. Location is just right for your days visiting the beautiful coast line of Cornwall."
"This is a beautiful place, large and spacious rooms. In the middle of nowhere but close enough to everywhere you may want to go to. Peaceful and at night so many stars, the owners are very friendly and helpful."
"Fab views, lovely apartment, friendly owners!!"

From the minute we arrived we were warmly greeted and shown around. There was a hamper of a few bits to keep us going until we got to the shop which was handy especially for the cup of tea after the long drive. The apartment is lovely, very spacious and bright. The views of the gardens are beautiful. David and his wife were very helpful and also very kind. Our non stop talking daughter who took a shine to them was allowed to help with gardening and came back with some intresting facts so thank you for keeping her occupied whilst we sorted the baby out! We would 100% recommend. The only bad part was home time the week flew!

"Fabulous stay. Would stay again yesterdayou!"

Fabulous eco lodge with wonderful surroundings.Locatation is perfect setting down a quiet road amongst trees. More than enough space in every room with modern and clean decoroom. Had a welcome hamper pack upon arrival and the owners that live upstairs were friendly and helpful and left us to our own devices! What love to stay there all year round. We will be coming back

"Absolutely superb"

Not often do you meet genuinely nice people but I had the good fortune to do so when I spent the week at the Woodlands and met David & Dan Pitman. We were made to feel incredibly welcome in superb accommodation which more than met our expectations,everything was thought of and of the highest quality,there was even a welcome gift which was very thoughtful. The grounds are outstanding and free to enjoy and the table tennis table was a lot of fun. The location is excellent with everything that you need within a couple of miles. So thank you David & Dan for sharing your wonderful home with myself and my family we certainly would visit again .

"Fantastic. Would highly recommend"

We had a fabulous first holiday in Cornwall. The lodge is absolutely perfect for a relaxing stay. Very clean.. All mod cons. Private back garden to relax in. Stunning lodge with beautiful surroundings. We had the best night sleeps! The owners were so friendly and helpful and we received a small hamper of goodies to keep us going until we got to the shops. They let us know they were on hand if we needed anything but we still had our own privacy. Great memories and intend to return to the lodge. Would highly recommend as the perfect holiday stay.

"Amazing property and beautiful location"

Stayed over New Years Eve with a group of friends - after a long 5 hour journey from London we arrived to the beautiful Woodlands in a scenic location. Keys were ready as soon as we arrived, and we were welcomed by the lovely owners, along with a cosy interior with very modern fitted kitchen, bedrooms (with enormous beds!) and bathroom. Everything you need for cooking your own meals, we did all weekend. The view from the burrow is also amazing, the huge glass windows look out onto the garden and you really know you're in Cornwall! There's a co-op about 5 minutes drive away or Morrisons a further 10 minutes down the road. As well as this, the best fish and chips I've ever tasted at The Port and Starboard, just a quick drive down the road. There are a number of cycle routes just a short drive away, as well as the town of Newquay just 15 minutes drive from the property. Overall, absolutely beautiful location, and will definitely be going back - definitely for longer this time! Thank you!

"Super stay at The Lodge"

We used The Lodge as a base to visit friends in Truro along with general visiting around Cornwall. Our party contained 4 adults and our baby who was 7 months and was absolutely perfect. From early conversations with David before booking The Lodge he already made us feel welcome and his flexibility suited us down to the ground. We arrived at the lodge to receive a complimentary hamper which helped us until we went shopping. The Lodge itself was as perfect as the photos illustrate and these probably don't do it enough justice. David didn't have a problem with our friends visiting, which helped us due to the needs of the baby. There is more than enough room to accommodate everyone even with the two visitors we had. The kitchen area is spectacular with the use of a dishwasher, washing machine and tumble dryer, even the dish washer tablets were supplied. We were left to do what ever we wanted, however we knew where the owners were if we needed them. The owners were so flexible

"True rest and relaxation"

I stayed here for a week and loved the place for its peace and quiet. There was plenty of space to stretch out and truely relax. I found the apartment well equiped and lovely and clean and tidy. Thanks for the welcome gift on my arrival it was well recieved. The location is great as it is central to Cornwall and only a few minutes from the main highway. Its nicely secluded away from the roads and urban areas, so quiet nights are a guaranttee. Thanks to David for his skills as a host, it truely made my stay a well needed rest.

"A fantastic apartment in a beautiful location."

We had a lovely stay here in this super spacious apartment. It has beautiful gardens to explore. The owners are really helpful and friendly. It is ideally situated to visit the surrounding area. We will be definitely be booking again next year. Many thanks.

"Idyllic and luxury apartment"

We stayed at the burrows in August 2015 with some friends. Apartment was lovely, clean and fully equipped. In fact we wanted for nothing, Owners were very friendly and the house and grounds were amazing, When you visit don't forget to look at the stars at night. They are spectacular. The grounds at the front were very well kept, and there is a self contained patio at the rear of the apartment, with a ping pong table, which is fun for everyone. Highly recommended.

"Fabulous Weekend In The Burrow!!!"

We had a wonderful time at "The Burrow" at Woodlands. Dan and David couldn't do enough to ensure our comfort. Lost of parking, very comfortable large bedrooms, quiet environment and a beautiful view. What more would you ask for!!

"Familienurlaub"

Eine große Ferienwohnung, ruhige ländliche Lage, etwas abseits (10km nach Newquay), aber als Stützpukt für Ausflüge sehr gut geeignet. Einkaufsmöglichkeit bei Coop ca 5 min mit dem Auto entfernt. Die Eigentümer wohnen oben im Haus und sind sehr freundlich und hilfsbereit.
© Copyright Strawberry Marketing UK Ltd